July was a hectic month as I moved from the Atlanta area to San Francisco! Despite the long plane rides and the laborious process of packing and unpacking, I still managed to power through several books. Now that I'm nearly finished getting settled in in my new home, I thought I'd share some quick thoughts on what I read last month.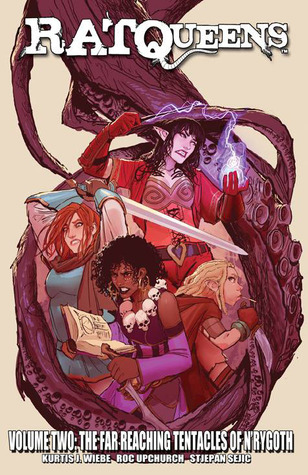 Rating: 5/5
I started July off with the second volume of Rat Queens. I loved the art style and characters from volume one and was not disappointed with the sequel. The characters are beautifully drawn and so well written that I easily devoured this volume in one sitting. Fans of Saga would love this story and the characters' interactions. If you love fantasy I would definitely give this a shot!
You can buy a copy from Book Depository here!


Rating: 4/5
The Little World of Liz Climo was a quick cute read. It's a series of short comics involving animals in humorous situations. Though it isn't a long book, it did help me pass the time in the airport and (thankfully!) took my mind off of the upcoming flight. If you want to smile or like looking at cute pictures, this is a quick fun read and definitely worth a few minutes of your time.
You can buy a copy from Book Depository here or you can check it out on Scribd!
Rating 5/5
In preparation for Harper Lee's Go Set a Watchman, I revisited To Kill a Mockingbird. I listened to the audiobook read by Sissy Spacek and it was delightful! I'd read the book in high school and remember loving it but I'd forgotten so much of the story and how wonderfully Scout's story was written! Hearing it read aloud by Spacek made the experience that much better; she sounded exactly as I would imagine an adult Scout. I felt as if I were reading about Scout and Jem's adventures for the first time and fell in love all over again. If you're thinking about reading TKAM for the first time or wanting to revisit the characters, I would highly recommend the audiobook!
You can buy a copy from Book Depository here or you can check it out on Scribd!
Rating: 4/5
If You Could Be Mine was heartbreaking and wonderful. Set in Iran, the book follows a teenage girl who is in love with her best friend. It explores what it is like to grow up in Iran and the issues that surround LGBT identities in Iranian culture. This book was so well written; I tore through it in a couple of days. Sahar is a delightful character and her narrative made for a compelling read!
You can buy a copy from Book Depository here or you can check it out on Scribd!
Rating: 2/5
My final book of the month was the much anticipated Go Set a Watchman. So many people have written about their reaction to this book and why they weren't impressed with it so I won't delve too much into it. I will say that I was very disappointed because I built this book up to be something that it was never supposed to be. This is fascinating if it is viewed as a first draft for To Kill a Mockingbird. It is by no means a sequel! There were times when I had to force myself to finish this book and had it not been by Harper Lee I would have probably stopped halfway through and moved on to something else. I'll probably revisit this again in a year or so and see if I still feel the same way but for now I'm giving this book a big thumbs down.
If you'd like to check it out for yourself, you can buy a copy from Book Depository here.